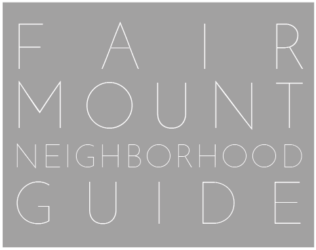 Home to Philadelphia's world-class museums, this neighborhood is often referred to as the "Art Museum".  With the Philadelphia Museum of Art, the Franklin Institute, Rodin Museum and the Barnes Foundation lining the Parkway here, the reason for the nickname is clear! The hill on which the Art Museum sits was originally intended to be the location of William Penn's manor house and is where the name "Fairmount" derives from.
Just outside this cultured strip, a thriving food scene draws young families. With coffee houses, classic Philadelphia eateries, and new additions, there is something to satisfy every palate. Independent boutiques are beginning to emerge, settling in nicely next to neighborhood standbys. A large new Whole Foods and a small Target outlet provide a national chain fix.
Multiple bus routes and SEPTA's Broad Street line make this area very transit friendly, a plus since, like most of Philadelphia, on the street parking can be a challenge.
Host to many of Philadelphia's biggest events, including the Thanksgiving Day parade and near daily summer happenings, the Oval in front of the Art Museum is a fantastic venue for all kinds of fun events. Many of Philadelphia's most famous and picturesque locations lay within the boundaries of this neighborhood including the Fairmount Water Works, Fairmount Park, and, of course, the famous Rocky Statue and steps.
A diverse mix of ethnicities give this neighborhood a vibrant feel.. Historic mansions sit next to new builds sit next to classic Philadelphia row homes. Nearly secret small streets provide the kind of charm and historic feel Philadelphia is known for.