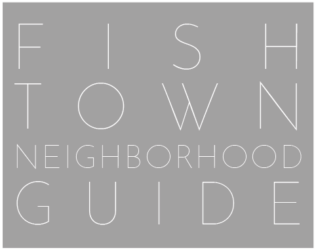 The heart of Philly's artistic, culinary and musical action, Fishtown has seen an influx of new, young, creative residents in the last 20 years. Named for the booming fishing industry that thrived along the Delaware River, the neighborhood is now a mix of classic Philadelphia working class, millennial creative class, and young families. Independent businesses make up the heart of this community, and an arts and dining renaissance has breathed new life into the area. New construction sits next to traditional Philadelphia row homes with shopping and dining options lining Norris, Frankford, and Girard streets.
Throughout the year community activities bring crowds from all over the city to hear live music, check out makers booths, and taste craft brews from around the world. In June, Frankford Hall – a German style beer garden – hosts FestivAle filling Frankford Avenue with vendors and beer tastings. The River City Festival in October brings multiple stages of live local music for an all-day outdoor party, and soon after the neighborhood celebrates Octoberfest. The Fishtown Flea is a tremendous chance to support local artists, artisans, and makers of all kinds with hundreds of booths to explore.
Accessible by the Market-Frankford Line, bus, and trolley there's no need to drive in Fishtown. Because the neighborhood lays below Front Street, none of the streets are numbered. This makes getting around a little more difficult than in the rest of the city.  Dotted with mini parks and green spaces and access to the Delaware River, you may be tempted to spend the day in the grass, but don't miss the view of Center City at sunset from Girard Ave!
No matter your mood – upscale cocktails to dive bars, fancy fare to quick take out – Fishtown has it. Packed with pizza places and coffee shops, many visitors are tempted to stay close to the Frankford and Girard intersection, but if you explore a little deeper into the neighborhood, you can experience so much more. Stop by La Colombe for breakfast, Kensington Quarters for dinner, and Cake Life – the shop that provided Beyonce's 2017 birthday cake – for dessert. Dive a little deeper and you'll find a museum dedicated to pizza connected to an ice cream shop that serves pizza flavored ice cream – Fishtown is full of adventure!