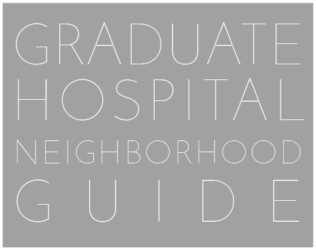 Ambitious entrepreneurs and restauranteurs have revitalized this neighborhood of mostly single family rowhomes. With easy access to Center City and a walking/biking trail that leads all the way up the Schuylkill to Manayunk, Graduate Hospital has a lot to offer. Affectionately called "G-Ho" by the residents, this vibrant and eclectic area of Philadelphia is seeing new restaurants and shops opening nearly every other week. Filled with 19th and 20th century row houses, the area was originally chartered by a Dutch governor and by the late 1870s it was predominantly Irish American. The early part of the 20th century saw a decline in the neighborhood, but the last 20 years, a renaissance has taken place, bringing young families, artists, and young professionals to the area.
Especially popular among young families, this neighborhood also boasts a burgeoning handmade arts scene. The 40-plus year old Odunde Festival brings African food and dancing in June, while Bloktoberfest fills October with fragrant foods and live music. The Marian Anderson Recreation Center – named for the locally born opera singer – offers swimming and camps as well as classes for teens and adults while the newly built Catherine Park offers a small playground and space for relaxation.
The growing restaurant scene includes cuisines from around the world – including lesser seen regional cuisines like Balkan and Australian at Ants Pants Cafe as well as the more prevalent Indian, Thai, and French. Pubs featuring craft beers can be found throughout Graduate Hospital, neighborhood favorites include Side Car and the more upscale The Cambridge. Philadelphia born specialty coffee purveyors Ultimo have an outlet in the neighborhood as well featuring their own brand of home roasted and ground coffees.