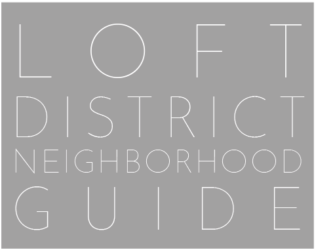 To misquote Shakespeare – would a neighborhood by any other name be as sweet? The answer here is a resounding yes. Ask locals where they live and you'll get a myriad of answers – Callowhill, Eraserhood (after former resident David Lynch's groundbreaking movie Eraserhead), the Loft District, Trestlehood, and most recently, Spring Arts. Stylish modern high-rises, converted factory lofts, live music venues, and a growing number of restaurants and art venues make this emerging neighborhood an exciting place to be, no matter what you call it. Unlike the tightly packed row homes in most Philly neighborhoods, the historically industrial enclave of the Loft District is more spread out. The elevated tracks of the defunct Reading Railroad run through the heart of the neighborhood and are currently going through redevelopment into a park reminiscent of New York's popular High Line promising to bring further development and activity to this growing neighborhood in the heart of Philadelphia.
The diversity of the neighborhoods residents is reflected in the diversity of diversions available. History buffs will love visiting Edgar Allen Poe's home where "Fall of the House of Usher" was written. Foodies will adore Reading Terminal Market, home to specialty purveyors of cheese, meats, fish, and even corn dogs. Arts aficionados can take in a show at Union Transfer, Underground Arts, or one of the many galleries springing up in the area.
The SEPTA Broad Street line offers two stops here and there are seven bus lines that run through the neighborhood from North to South, making commuting a breeze. Keep an eye out for the Art Deco and Mission Revival architectural details that earned the neighborhood National Historic District status on your evening stroll home.
With eclectic bistros, gastropubs, gourmet pizza and trendy brunch all available from the area's eateries, there are opportunities for every palate. Vegan options and gourmet desserts can be found at Sazon, a Venezuelan influenced eatery, while down the street at Bufad handmade pizzas are topped with clams, potatoes, or pancetta. The beer and cider menu at Prohibition Taproom offers 24 beers and ciders in addition to gastropub offerings. Additional dining and drinking options are found along 13th and 9th streets, but with the way this area is growing, they won't be contained for long.